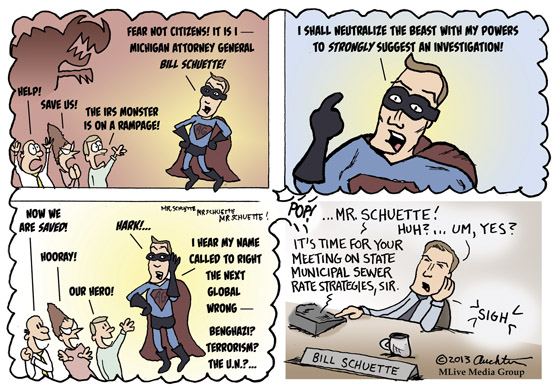 Originally published in the Ann Arbor News, Bay City Times, Flint Journal, Grand Rapids Press, Jackson Citizen Patriot, Kalamazoo Gazette, Muskegon Chronicle, Saginaw News
May 26, 2013
This may appear only to be a swipe at Michigan Attorney General Bill Schuette (and it is a swipe), but there's more to it. Mr. Schuette's reflexive partisan politics seems to me to be ill-suited for a position where he supposedly the legal representative for all Michiganders. So when he went wading into national politics on the recent IRS shenanigans, I felt the need to call shenanigans on him. Actually my first thought was to draw him smooching up to a giant poster in his office of former attorney general and eventual governor and national political pundit Jennifer Granholm ("Oh my darling! We know being attorney general is only a stepping stone to better things!), but it felt kinda creepy, and how many people even remember Jennifer Granholm at this point?
But frankly what I was doing with this weeks cartoon was poking fun at myself. I, too, long at times to sink my teeth into some juicy national topic like the IRS scandal or international topic like Benghazi. But, alas, I am paid to draw about Michigan, and tempting as it is to create some sort of tortured connection between the Arab/Israeli conflict and, say, our wet spring bringing a bumper crop of mosquitos this year (yeah, there is no connection), I should be satisfied with what I have to draw about. So thank you, Bill Schuette! Please keep doing stupid things in Michigan as long as you can until you graduate to a bigger stage!