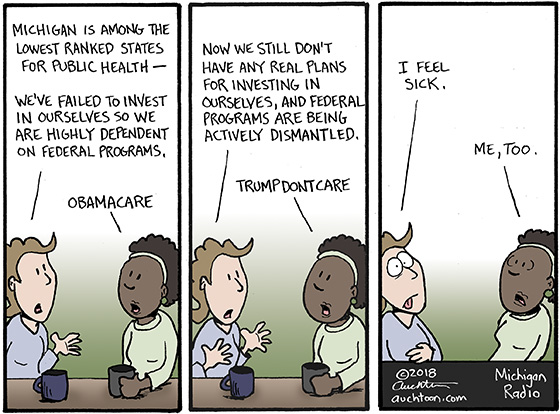 Sometimes the point of a conversation is to discuss an issue, not necessarily to resolve it. This goes against my middle-aged man tendencies. I'm inclined to want to find the resolution by providing the answer (or, let's be honest, appearing as if I have the answer). But something like the current sorry state of public health in Michigan is a big, big issue and not easily resolved, certainly not within three panels of a cartoon.
So if you're looking for my point this week, I must confess that I don't have one. Well, not one that you would come to expect, like me having a very specific opinion or advocating for a certain course of action. No, this was more of me thinking the topic was important and wanting more people to know. (That and a desire to wedge in the Obamacare/Trumpdontcare joke.)
If you're looking for actual depth, I would suggest you listen to the Stateside story from earlier this week. It explores a new report from the Citizens Research Council of Michigan about how underinvestment in our public health infrastructure has cost us (and will cost us) much more than we think we're saving.