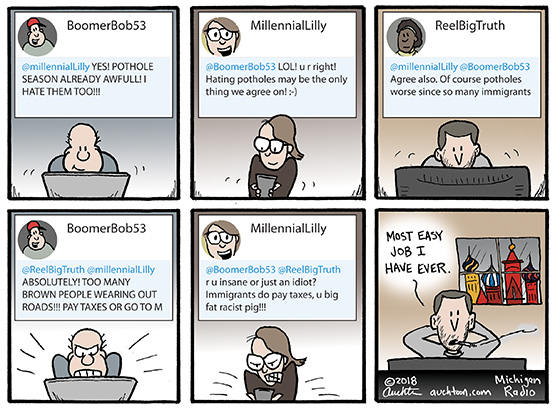 Three inspirations for this week's cartoon:
A recent This American Life episode titled "Words You Can't Say." There are two stories, and both are really good. But if you only have a half-hour, definitely listen to Act 2. It is a textbook (and real) example of how strict adherence to ideology can absolutely obliterate common sense and common good.
Special counsel Robert Mueller bringing indictment changes to Russian nationals for interfering with U.S. elections and political processes. It's becoming more and more apparent just how easy it was for outside agitators to hijack political dialogue. American voters in 2016 weren't so much tricked as we were manipulated and amplified. Instead of questioning sources, we enthusiastically became accomplices. How is that not a top threat to our nation?
The most recent flurry of memes that followed the Parkland, Florida massacre. I applaud those who are off of social media for Lent. Good timing, I'd say. But because I draw this political cartoons, I didn't feel right totally cutting myself off, so instead I'm making a special effort to avoid anger triggers. And that's exactly what most memes are, anger triggers. Anyway, the small sample I've let my eye wander across, oy! If they weren't authored by Russian trolls, then they were authored by Olympic Trolls from Russia.
Oh, wait, there was a fourth: All the new freeze/thaw potholes, which are destined to ruin my cars and shake the fillings from my teeth. Oh how I hate potholes.