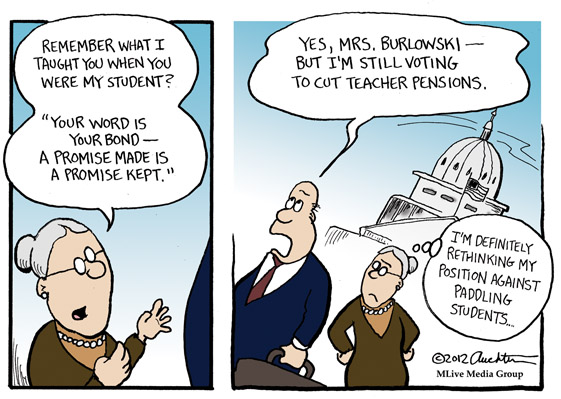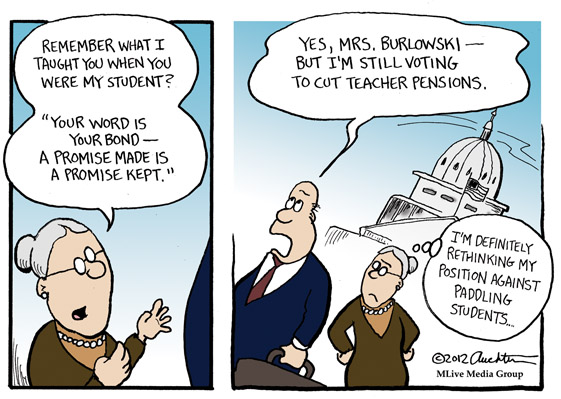 Originally published in the Ann Abor News, Bay City Times, Flint Journal, Grand Rapids Press, Jackson Citizen Patriot, Kalamazoo Gazette, Muskegon Chronicle, Saginaw News
May 26, 2012
All three of my kids had Jan Burlowski for their second grade teacher at East Elementary in Grandville. What a wonderful teacher! A kind, caring, and giving person with an obvious natural rapport with children and a dedicated work ethic for teaching them. (Editor Note: The drawing here looks nothing like Mrs. Burlowski — I was going for a more stereotypical "school marm" look.) In fact, my kids have had a lot of wonderful teachers in their public school education. For my family, it has been an overwhelmingly positive experience and — if you want to talk strictly financial terms — a huge return on investment.
So it is somewhat counterintuitive for me to see teacher pay and benefits chipped away under the guise of "their failure." Yes, I know that some public schools are not run nearly as well as Grandville's and difficult decisions need to be made, but that does not mean the entire system is broken. And it does not make it right to demonize all teachers so it's easier to break promises to meet budget goals.