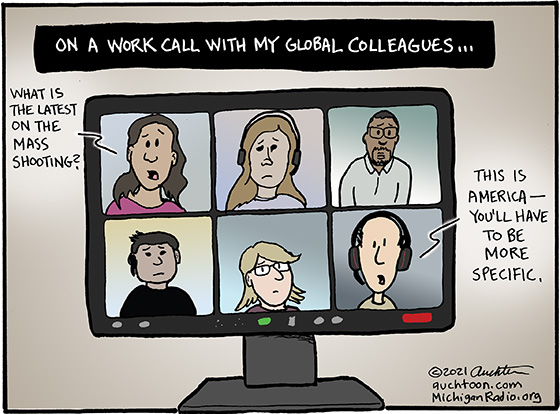 I was scrolling through Facebook earlier this week, and I saw this post from Vincent Duffy who is the News Director and my editor at Michigan Radio:
Friend: What's the latest on the mass shooting?
Me: This is America, you'll need to be more specific.
It is almost word for word a conversation I had a few years ago with a work colleague from another country. He expressed concern about a gun violence event here in the US, and I had to ask him to clarify which one. How sad is that?
But what's sadder than having those conversations is not having these conversations. My foreign friends and co-workers aren't asking questions anymore. For Sandy Hook, Aurora, Vegas, Parkland, etc. they would want to know why/how something like this could happen. They would try to understand. This past week nobody has asked me about Atlanta or Boulder. I think it's because they don't need to ask. They know — this is America.
It's difficult to come up with something new on our country's gun violence. Even "this is America" is a callback to a song addressing the subject released by Childish Gambino three years ago. The video, with its sudden bursts of gun violence, is particularly disturbing, but that's the point.
This is America. This is America.
It doesn't have to be. But it is.