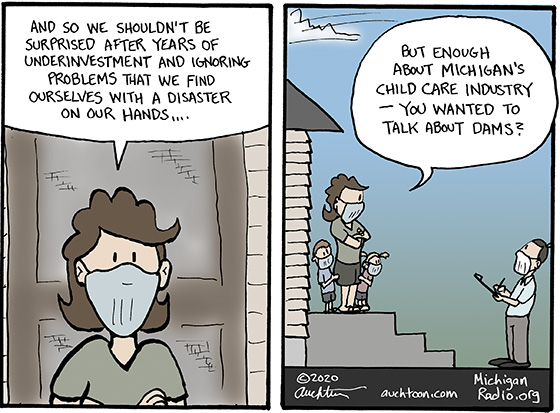 My niece works as a chemical engineer in a petroleum refinery. When the pandemic hit, there was both a glut of oil and a sharp reduction in demand for oil products. That, along with stay-at-home orders for workers, led to the difficult decision to turn off the refinery for a bit. Refineries are intricate arrays of pipes and heat and reactions and processes all kept at a delicate balance. They are not really meant to be turned off because of the difficulty of turning them back on, which is exactly what my niece is going to be faced with soon. (She's super smart and dedicated, so that'll help.)
But it's kinda like that for all of us. We are all having to deal with turning an economy back on that wasn't necessarily designed to be turned off. In fact, it wasn't designed at all. So it has all of the intricacies of a refinery, but none of the careful plans and documentation, which will make restarting especially challenging.
Case in point, child care. Michigan Radio had a story this week on the critical need for the child care industry to reboot as parents start getting back to work. But the process is likely to be painfully slow because it wasn't actually working well before the pandemic. It's a disaster that is not nearly as spectacular as a long-neglected dam giving way. But for families with young children looking to get their lives back (or at least functional), the lack of quality, affordable child care may make it feel just as devastating.