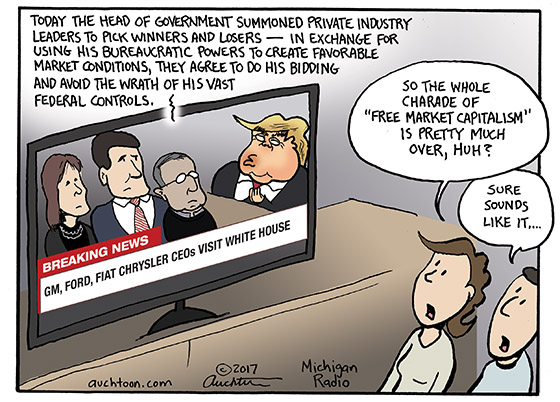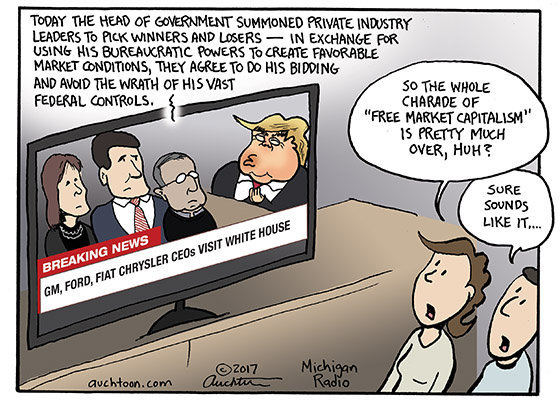 See? See?! This is exactly why I think it's ridiculous to declare allegiance to any particular political party. Who they are and what they represent is a fluid thing — they change over time. Sometimes very, very quickly.
It was just eight years ago when automaker CEOs were also schlepping to Washington DC. Back then it really was to secure a future for the American manufacturing industry. They were harangued by all flavors of lawmakers. And rightfully so. The automakers had not created the crisis (a bursting housing bubble had done that), but they had left themselves highly vulnerable with years and years of bad decision-making.
But what was particularly hard to take were Republican senators like Jeff Sessions of Alabama riding around on their high horses extolling the purity and sanctity of unfettered capitalism. (Never mind that they basically bought their assembly plants with massive tax breaks.)
So what happened to the Republican party whose supposed rock-bed tenet is free and open markets? Because now it seems that same party is leading the way to closing markets, applying tariffs, inserting itself at every opportunity, and attempting to pick the winners and losers.
The answer is, the party evolves. And so the Republican party of eight years ago has the same name, but for all intents and purposes, it has become the Nationalist party. If it's new rock-bed tenet is America first, all that free market capitalism (and everything else) by definition is going to have a lower priority.
Well, at least there are virtuous leaders within the federal government who will be there to ensure the auto industry and Michigan get a fair shake. Leaders like the new Attorney General, Jeff Sessions, who… oh, never mind.