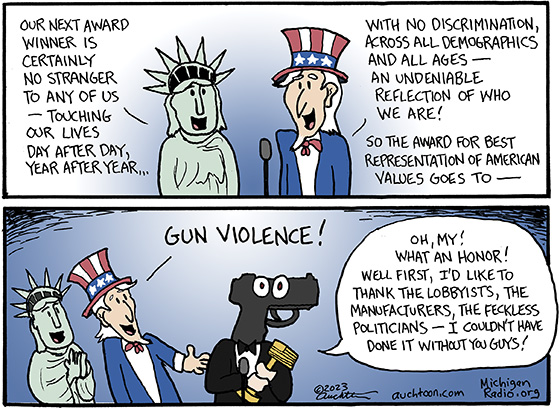 The guest on a recent Smartless podcast was Bono, activist, philanthropist, and singer-songwriter for the band U2. During the interview, he was asked for his take on the general state of affairs in America — particularly from his perspective as an Irishman who has worked in and written a lot about America.
Disclaimer: Bono is one of those overfed and overpaid rock stars. You can go ahead and dismiss him on those grounds, but he is also self-aware and self-effacing about it. It's worth listening to the podcast.
Here's what Bono said, "America is the greatest idea the world has ever had, but it doesn't exist yet."
He wasn't talking specifically about gun violence, but I couldn't help but to make the connection myself. Among the declared goals of these United States of America is famously to the inherent and inalienable right to "the preservation of life, and liberty, and the pursuit of happiness." Too often gun violence limits (and with horrible frequency, extinguishes) all three of those rights.
For victims of gun violence, America is a great idea that is not being realized. This, of course, is nothing new. But that shouldn't prevent us from working toward bringing the idea of America to life for everyone.