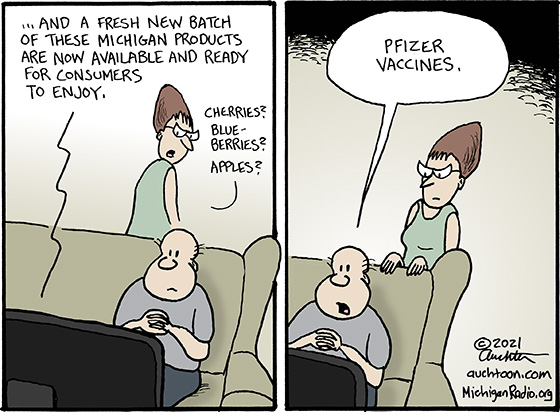 The goal in Michigan has been for 70% of us 16 and older to have had at least one dose of a COVID-19 vaccine. As of this week, the rate is at 65.2%, which is below that national rate of 73%. So what's holding us back?
Well, lots of things. Access was a huge problem at the start and still is, especially in Detroit. There continues to be, of course, a great deal of fear ginned up by disinformation campaigns. And there have been functional concerns like for folks working paycheck to paycheck who can't afford to take a sick day in case they have a reaction.
It's not for a lack of promotion. The governor and the health department have been consistent in the messaging on the benefits of vaccination both in terms of personal and economic health. And the state has gone to additional lengths. This week an Oakland County woman won the $2 million grand prize in the final round of drawings of the MI Shot to Win COVID-19 vaccine sweepstakes. The Protect Michigan Commission just named nine young winners of $50,000 college scholarships.
What else can we do? Time to take it to the next level and appeal to our pride. A great deal of the Pfizer vaccine is produced in facilities in the Kalamazoo area. If we can tie into the same satisfaction we get from enjoying other locally produced products — fresh fruit, craft beer, pickup trucks, etc. — maybe we can get that vaccination rate to where it needs to be.