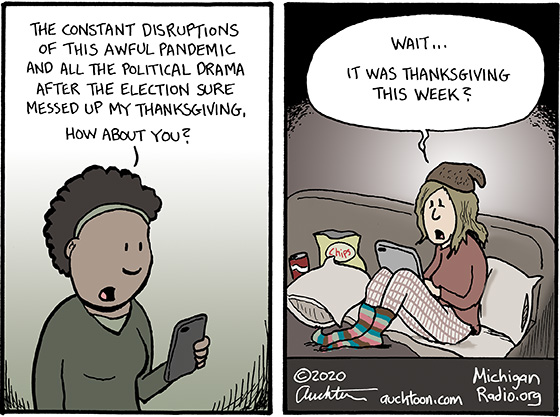 Twenty-one years ago, my wife, my two daughters, and I went on a trip to England during Thanksgiving. My brother was living in London at the time and had invited us to stay with him. It was magical. We toured all around. We rode the Underground, we took a motorboat up the Thames, we went to see The Lion King on stage. It couldn't have been more perfect.
Prior to the trip, I had only two misgivings. The first was leaving our son at home, who was just too young to travel. (He had a pretty sweet week, though, basking in the full attention of Nana and Poppie.) The second was missing our traditional Thanksgiving. The families, the food, the fun — everything. I am very much wired to choose what I do know I like over all other options every time. It seems silly to think that I might have opted out of a trip to London just to spend Thanksgiving at home, but I remember it being a consideration.
All that to say, Thanksgiving this year has no doubt been different. And probably not in a good "trip to London" sort of way. (Literally. You couldn't go even if you wanted.) But still, I hope you have been able to find some joy in the different experience. Or at least it occurred to you that it was Thanksgiving and that you can think of something to be thankful for.