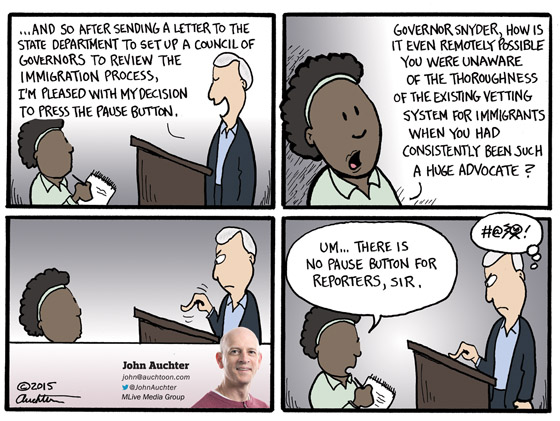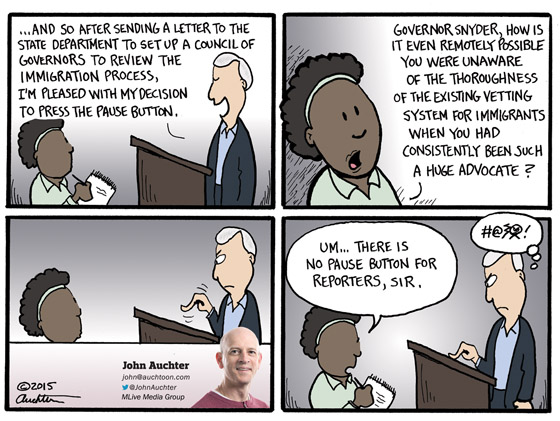 Originally published in the Ann Arbor News, Bay City Times, Flint Journal, Grand Rapids Press, Jackson Citizen Patriot, Kalamazoo Gazette, Muskegon Chronicle, Saginaw News
December 6, 2015
Also posted online at MLive.com, December 5, 2015
In the movie "Silver Linings Playbook," the character Pat (Bradley Cooper) seemingly reneges on a promise to compete in a dance competition with Tiffany (Jennifer Lawrence). Tiffany is upset and repeatedly screams after Pat as he walks away and out the front door, "You are not a standup guy!" (Spoiler alert: In the end, Pat does in fact prove himself to be a standup guy.)
I have a much lesser emotional attachment to our governor, but based on his recent actions I still have the urge to yell after him, "You are not a standup guy!" Repeatedly.
As with John Engler in his first term, Rick Snyder originally had a platform, he got elected on that platform and his actions as governor were consistent with that platform. You might not have liked what he did (cut business taxes, increased powers for emergency managers, pushed through the Gordie Howe bridge, etc.), but he did what he said he wanted to do. Regardless of your opinion about the actual policies, he seemed to be a standup guy.
I think that Gov. Snyder jumped the shark, so to speak, was when he signed off on the right-to-work legislation. Of course he never promised not to. He was purposely, willfully vague. Kept his options open. Said "I have no opinion" pretty much up until it sped through a lame-duck session. Again, agree or disagree with the actual policy, it remains decidedly not a standup move.
And now with his pause button on Syrian refugees. As the second panel of the cartoon says, I find it hard to believe Gov. Snyder was unaware of the details of our current vetting process. Encouraging immigration, especially as a means to bring new energy to some of our cities, was one of his core beliefs, a differentiator. Why go so quickly from advocate to obstacle? Why give up credibility for fleeting, short-term political gain?
If it's me reading the signs, I see a politician who has lost his way.