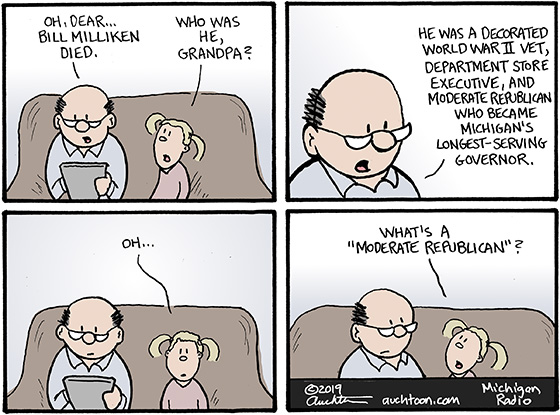 A few years ago when Trump was elected, I made a joke that Grand Rapids should be very grateful because they'll be able to power the city with electricity generated by Gerald Ford spinning in his grave. (Well, along with Betty Ford spinning there right beside him.) A bit of an inside joke. First, you have to know that the Fords are buried here in GR (right next to the Gerald R. Ford Presidential Museum). You also have to understand how very different Ford was as a Republican (and, frankly, as a human being).
Ford was a moderate Republican. And you can easily forgive anybody younger than 30 (let alone a child like in the cartoon) for not having any idea of what that is. "Moderate Republican" was never an official club, and I won't attempt my own definition. Better to offer (in addition to Ford) an example: the recently deceased Gov William Milliken.
Milliken was many things but most significantly for Michiganders he was the governor from 1969 to 1983. If you don't know much about him, I encourage you to read one of his obits or at least visit his Wikipedia page.
Now, whether you liked or disliked his politics as a moderate Republican, that's really not the point. What's remarkable is their extinction. It truly feels like Bill Milliken may have been the last one.