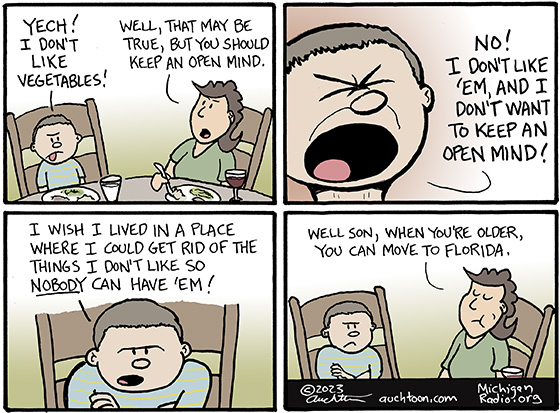 Although the cartoon this week is not specifically about Michigan, I would argue that anything about Florida directly relates to Michigan. We're connected. Michiganders visit there, vacation there, many of us even eventually move there. I mean, lots of sun and no state income tax, what's not to like, right? Well, as it turns out…
You guys read the news — you don't need me to list it out. Suffice to say, Florida has clearly been the epicenter of our nation's culture wars recently, and that doesn't look like it's going to change anytime soon.
But beyond the current political and social conditions in Florida, I have to admit that I do have a personal axe to grind with the state, and it has to do with their professional sports teams. For the past dozen years or so, Tampa Bay and Miami teams have been astonishingly successful while Detroit teams have been astonishingly terrible. As I write this, the Florida Panthers (yes, that's a real team) are in the Stanley Cup finals, and the Miami Heat are a game away from the NBA Finals. The Red Wings and Pistons didn't come close to getting in the playoffs.
But thing is, their fans don't seem to care. We Michiganders live and die with our teams; we cling to and celebrate championships from decades past and relive every bitter defeat as if they were yesterday. Florida fans might stay for the entire game when they win and then be completely "oh well" indifferent when they lose.
So I may be a little bitter. Okay, a lot bitter.