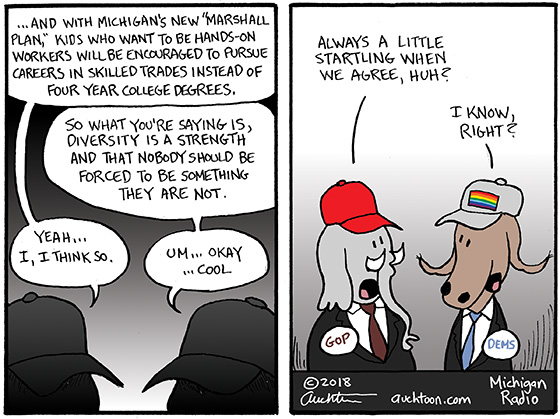 This week Governor Snyder signed legislation that he has championed as a "Marshall Plan for Talent." It's not a precise metaphor — the original Marshall Plan was the post-World War II effort by the United States to fund the economic redevelopment of the war-torn Western Europe to help rebuild an entire society. For our version the State of Michigan will spend $100 million in education initiatives, training, and scholarships to help rebuild our pool of skilled trades talent. So, different scale and stakes, but similar concept.
At its core, the plan is really about education reform. It's an attempt to help correct a bias to nudge all students toward four-year college degrees when a two-year degree or trade school training would better serve those who prefer hands-on work. The hope is to allow students to prepare themselves for careers that match their interests and talents. Former "Dirty Jobs" host and trades advocate Mike Rowe refers to this as "Work Hard AND Smart" (as opposed to the advice of "Work Smart, not Hard" that he received when he was in high school).
But mostly the plan was approved for its potential economic return on value. Michigan identifies as a place where stuff is made. To support that notion, we need people with the skills and talent to actually make stuff. So if we encourage and assist the people who enjoy working with their hands to pursue a career doing just that, they will fill the open positions and grow our manufacturing sector. Assuming, of course, a trade war doesn't kill it off.