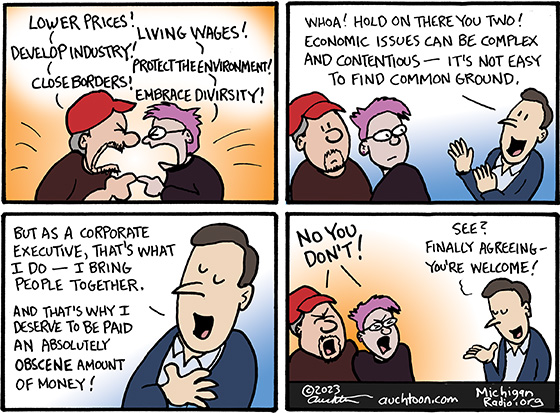 There was an article in the Washington Post this week titled, "Red and blue voters are backing UAW strikers in one swing county." I thought it was going to be about Macomb County, our famed "Reagan Democrat" bellwether community where reporters tend to go to monitor the pulse of the nation. It was actually about Bucks County, Pennsylvania. Different state, but same theme.
The angle of this particular "go to the diner and talk with the common folks" story was that liberal/conservative voters seem to be in rare alignment on the UAW strikers and the working class in general. Of course this alignment doesn't have much depth. Disagreements quickly appear when you bring up things like labor unions and electric vehicles, as demonstrated by the very different rhetoric during President Biden's visit on to Michigan on Tuesday and former President Trump's visit on Wednesday.
But do you know the one thing most Americans seem to be able to agree on that stands the test of time? It's okay to mock super-rich corporate executives. Especially out-of-touch super-rich corporate executives who insist that they're doing us all a favor by being super-rich. So after this sympathy for the autoworkers falls apart, at least we'll have that.