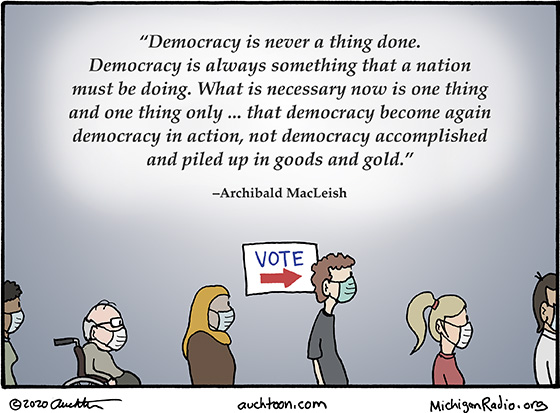 What can be said about this election that hasn't already been said? It seems like it has all been covered, right? And with that there comes a temptation to slow down when we see the finish line. But now is not the time let up — we all gotta run through the tape and complete the race at full speed.
So if I couldn't come up with something new, I decided to bring back the most appropriate "old." I didn't have anything memorized and ready in my back pocket. But I did have a notion and some half-remembered platitudes about democracy. It took me awhile, but I was able to piece together enough of this quote to find it whole and identify the source. (Thank you, Internet! You aren't completely awful.)
It probably would have been a better cartoon with just the first two lines: Democracy is never a thing done. Democracy is always something that a nation must be doing.
But what follows is so poetic, I couldn't not include it. After all, Mr. MacLeish fought in two world wars, was the first Librarian of Congress, and won three Pulitzers, so, yeah, best to go with the whole quote.
I hope you find inspiration. I hope you vote and stay engaged. I hope we all run through the tape.