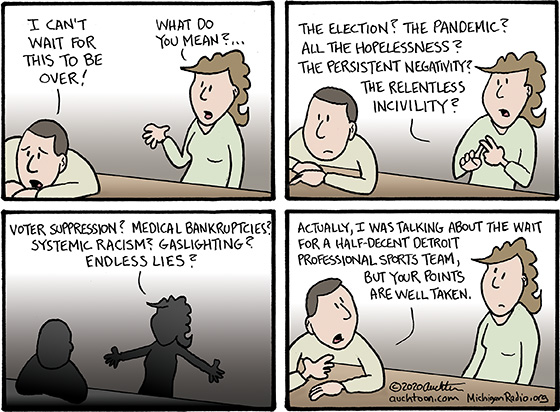 There is just so much going on. And to be keeping up on all the latest developments in the election and the pandemic feels very much like drinking from the proverbial fire hose. But then there's the other news we should all be paying attention to as well. Just this week the story broke of a new report revealing that parents of 545 migrant children separated at the US border cannot be found. That is terrible. And tragic. And overwhelming.
In the face of such a deluge, it's not unusual for my brain to go to someplace safe. Someplace that matters, but really doesn't matter. Professional sports, for example. It was here I considered the current World Series where the Los Angeles Dodgers are taking on the Tampa Bay Rays. No matter who wins, a single city and its metropolitan area will get to celebrate its second championship within a month — the Los Angelas Lakers recently won the NBA title, and the Tampa Bay Lightening won the NHL title.
How is that remotely fair? Okay, so maybe LA has some real fans. I don't like them, but they somewhat support their teams. But Tampa Freakin' Bay? Those people aren't fans! They don't love their teams through thick and thin. I'd venture that the only locals who have any level of true appreciation are Michigan expats. And here we are suffering with our Tigers, Pistons, Red Wings, and (as always) Lions. Yep, not remotely fair.
But anyway, if I can let my head spin on that for just a little while, I might work up the courage to get back to what's really important.