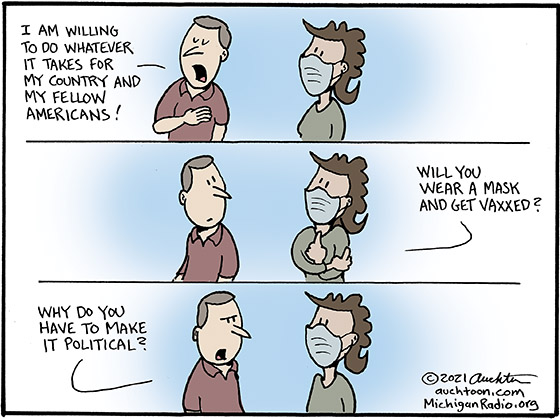 I feel like we're at an advanced level of disinformation — where disinformation can now not only obscure the truth, it can completely replace it.
Case in point (and quoting from a Detroit Free Press story): 
The highest ranking elected Republican in Michigan expects to skip a popular policy conference on Mackinac Island this year because of the organizer mandating attendees be vaccinated against COVID-19.

Senate Majority Leader Mike Shirkey, R-Clarklake, said the Detroit Regional Chamber "cowed to political science rather than embrac(ing) actual science" by mandating vaccines to attend the Mackinac Policy Conference. The statement contradicts the results of a recent study that indicates the previously infected who remain unvaccinated are at least twice as likely to get COVID-19 again as someone who is vaccinated.
Shirkey does not just imply but openly claims that science is on his side. What he is arguing, of course, has nothing "science" about it — he's just using the word. But if he can use "science" as his own — just say, "this is science" — then he apparently wins.
Similarly, if you accuse somebody of being political, but you yourself are the one that introduced politics into the discussion, you apparently win that, too.
Please note that I've appropriated "winning" here to mean "everybody ends up losing."