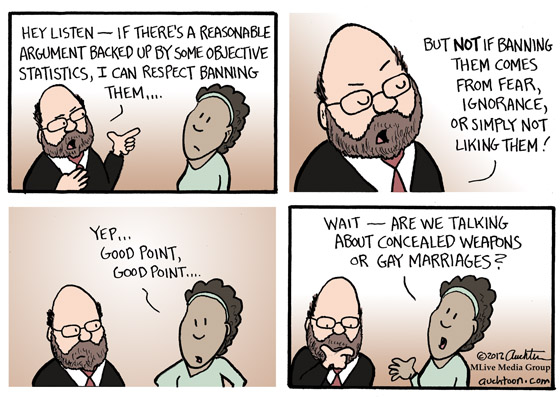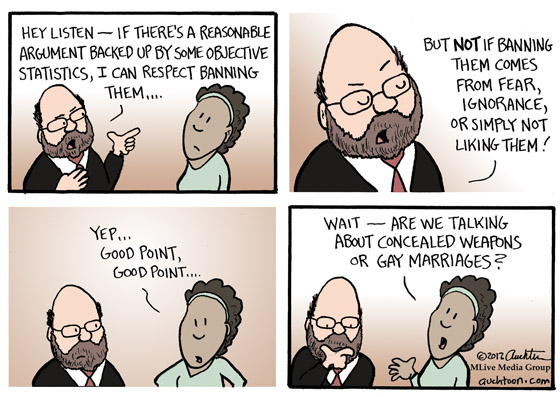 Originally published in the Ann Abor News, Bay City Times, Flint Journal, Grand Rapids Press, Jackson Citizen Patriot, Kalamazoo Gazette, Muskegon Chronicle, Saginaw News
April 1, 2012
I didn't grow up with handguns. My parents didn't have handguns. We didn't talk about handguns. As far as I knew, our neighbors and friends didn't have handguns. Oh, sure, I was aware of them. I had heard and read about them in the news, in the movies, stuff like that. And I guess my great Uncle Mike had some old German lugers that I had seen once, but then Uncle Mike had, like, 400 handsaws and ate pig's feet jelly so a few handguns sort of fit the pattern of his eccentricities.
All this is to say that I am not predisposed to liking or understanding handguns. In Michigan, there seems to be a hodge-podge of laws regarding concealed weapons and open carry, and how one obtains a permit, and where exactly a person with a permit is allowed to go with handguns. A couple of weeks ago, a fellow in Grand Rapids openly carrying a weapon he had a permit for walked into a public elementary school to vote. Guns are presently banned from school property. That seemed needlessly provocative, but nothing that I thought to draw a cartoon about.
More recently State Senator Arlan Meekhof showed up at a Senate meeting with his properly permitted pistol in open view. Again, I thought it unnecessary, but this time I remembered getting campaign literature from Senator Meekhof and his rather dim view of the idea of gay marriage, mostly because he didn't seem to either like it or understand it. The cartoon clicked. And it's as much a challenge to myself as it is to him. Before we go passing laws banning stuff, we should at least try to get past the influences of our initial reactions. Otherwise (and I believe I've said this before), I would be in full support of constitutional amendments to ban country music, overripe bananas, and the Los Angeles Lakers.