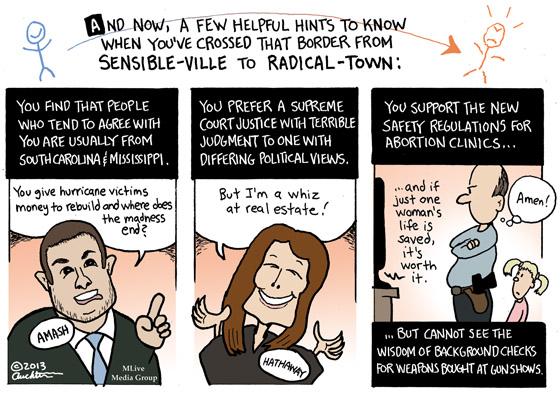 Originally published in the Ann Arbor News, Bay City Times, Flint Journal, Grand Rapids Press, Jackson Citizen Patriot, Kalamazoo Gazette, Muskegon Chronicle, Saginaw News
January 13, 2013
Justin Amash is a congressional representative from West Michigan. He is, from what I can tell anyway, an earnest person who takes his job seriously. But then he also tends to take these ideological stands (such as voting no on funding federal flood insurance), which seems less what a thoughtful, practical Midwesterner would do and more what a self-involved, purist from the Deep South would do.
Diane Hathaway was until very recently a Supreme Court Justice in Michigan. She resigned before she got kicked off for lying and doing stupid things. She's a Democrat and our Republican governor will likely replace her with a Republican. Some are more upset by the prospect a new Republican justice than an existing Democrat who lies and does stupid things.
Michigan recently passed legislation to create tighter oversight of abortion clinics. Ostensibly, this was done to protect women. Practically, it was done to limit abortions. In any case, I heard more than one quote to the effect of "if just one life is saved, it's worth it." Could we not apply this same standard to sensible gun policies?