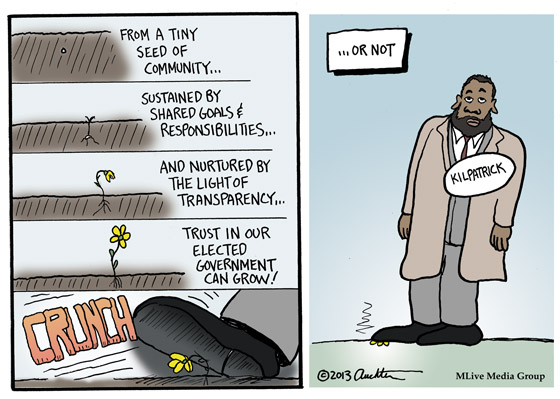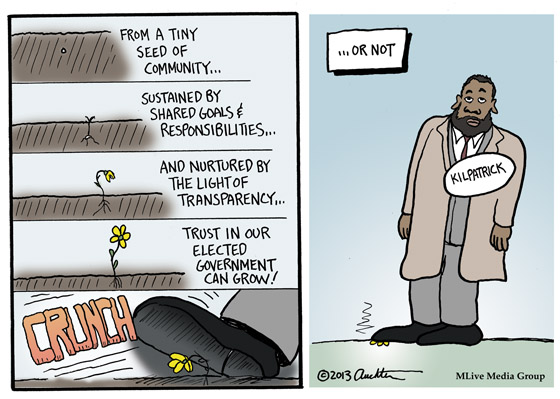 Originally published in the Ann Arbor News, Bay City Times, Flint Journal, Grand Rapids Press, Jackson Citizen Patriot, Kalamazoo Gazette, Muskegon Chronicle, Saginaw News
February 17, 2013
So two weeks ago — the day I posted my cartoon about certain gun devotees going off the deep end with their paranoid mistrust of their democratically elected government — the leak about the White House seeking legal justification for assassinating US citizens with drones appeared in the news. Um, thanks guys. Thanks a whole lot. Reallllly helped my case….
But despite the sinister notion that President Obama may or may not be aiming a rocket at your head right now, I still maintain that it is not sensible to stockpile military-grade weapons as defense against a government that remains (as Lincoln so eloquently put it) "of the people by the people for the people." And yet, I could not resist the opportunity to poke fun at my idealism with this week's cartoon.
The corruption trial of former Detroit mayor Kwame Kilpatrick wrapped up last week, and the jury is set to deliberate sentencing this week. From all evidence, Kilpatrick is a horrible person who lied and stole and stole and stole some more. All the while driving an already hurting community straight into the ground. But you can't dismiss government as a whole because of Kilpatrick any more than you can dismiss capitalism as a whole because of Bernie Madoff (or football as a whole because of the Detroit Lions).
Now I'm just praying that later today the jury doesn't find Kilpatrick innocent on all charges. That would really test my idealism….