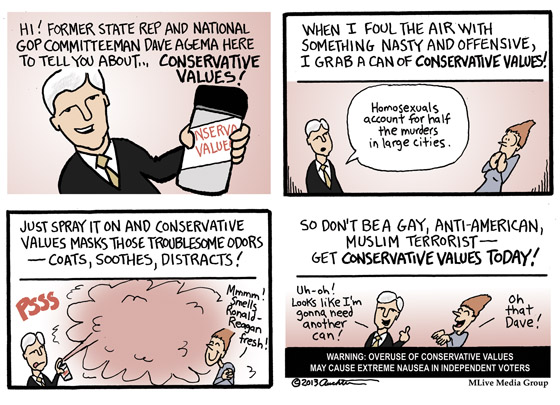 Originally published in the Ann Arbor News, Bay City Times, Flint Journal, Grand Rapids Press, Jackson Citizen Patriot, Kalamazoo Gazette, Muskegon Chronicle, Saginaw News
April 14, 2013
I don't think he would like me saying this (but then there are a lot of things I haven't liked him saying), but I think Dave Agema is West Michigan's answer to Coleman Young. Do you remember former Detroit mayor Coleman Young? He would do or say (especially say) really dumb, sometimes horrible things. And when the media would call him out on it, he would immediately run to his political base, plead persecution, and rally their support. It usually worked. And it usually works for Mr. Agema.
Recently Mr Agema reposted on his Facebook page an essay entitled "Everyone Should Know These Statistics on Homosexuals." Now we're all more or less used to folks reposting not-so-vetted content on their Facebook pages. However, when you are a veteran elected official and a current paid representative of you political party, you might want to check your sources. (Actually, spouting off on stereotypes should be the first red flag.) But when the source of any material turns out to be white supremacists, it's time to stop. And certainly if you went ahead and posted anyway, you should resign and apologize, not declare yourself misunderstood as the defender of conservative values.
This was not Mr. Agema's first Coleman Young routine, and as I read about it I thought, "Man, this is like a bad infomercial."