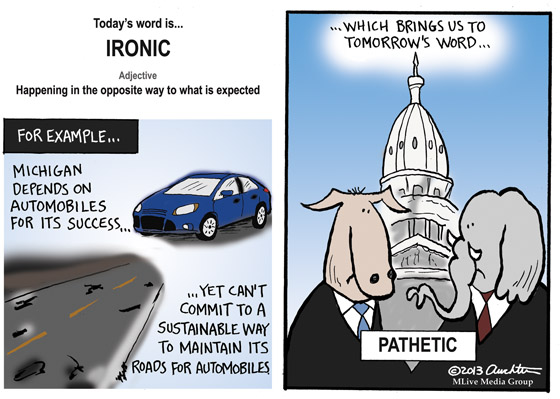 Originally published in the Ann Arbor News, Bay City Times, Flint Journal, Grand Rapids Press, Jackson Citizen Patriot, Kalamazoo Gazette, Muskegon Chronicle, Saginaw News
April 21, 2013
Didn't break a lot of new ground with this one. Basically, everybody knows in Michigan that we have to do something to fund road repair. The old model doesn't work anymore because it taxes sales of gasoline and with more efficient cars we use a lot less. Governor Snyder has proposed a solution. Democrats don't like it because it's his solution. Republicans don't like it because it has the work "tax" in it. So …nothing.
My starting point — and what I really wanted to talk about — was the recent failure of the US Senate to pass gun violence legislation. There's is lots to be disappointed about, but maybe the biggest one for me is that the argument "well nothing can be done about criminals so it is best to do nothing" won the day. It seemed, in a word, pathetic. I had no Michigan angle on that so I ended up with the cartoon you see.
However, there was a group of cartoonists who were able to express their disappointment in a very poignant way. Here's a short video created for Demand Action Against Gun Violence. It's only a couple of minutes and definitely worthwhile. Click HERE to see the video on the Demand Action website, with a slideshow of the artwork.