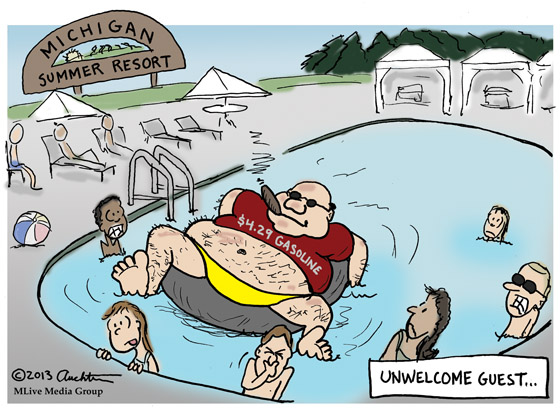 Originally published in the Ann Arbor News, Bay City Times, Flint Journal, Grand Rapids Press, Jackson Citizen Patriot, Kalamazoo Gazette, Muskegon Chronicle, Saginaw News
June 11, 2013
Last week gas prices in Michigan spiked to the second highest in the nation (after Hawaii, which is a bunch of islands with no pipelines). Why did this happen? Was it the changeover of formulas and additives for the summer driving season? Was it production issues at nearby refineries? Was it crude oil pricing instability brought on by some Iranian sneezing? Was it Big Oil squeezing out a bit more profit to demonstrate their authority over us? Was it Obamacare? Was it Obama not caring? Was it Obama colluding with Big Oil to sell Hawaii to the Iranians?
For the Michigan tourism industry, it doesn't matter how it happened — the fact remains that there's an obnoxious, smelly guy with an Ohio State-colored belly shirt and banana hammock floating in its pool….