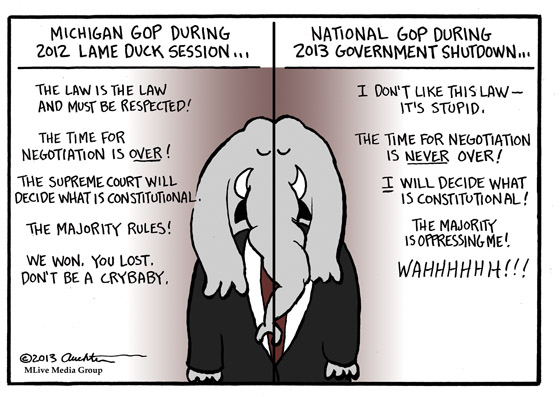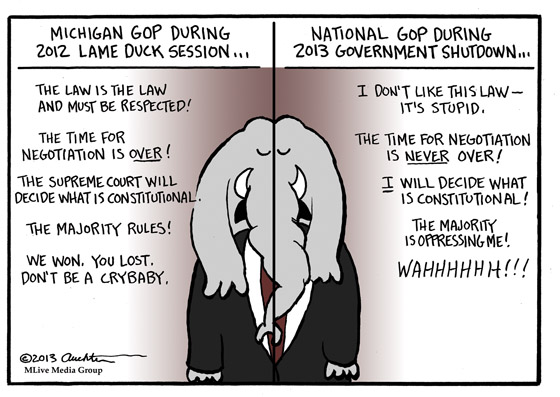 Originally published in the Ann Arbor News, Bay City Times, Flint Journal, Grand Rapids Press, Jackson Citizen Patriot, Kalamazoo Gazette, Muskegon Chronicle, Saginaw News
October 6, 2013
First, let me assure you that, yes, I am well aware that Democrats and the Democratic Party have had many instances of wild inconsistency in their actions, behave hypocritically, and let their ends justify their means. For the record, I see all sorts of organizations and individuals do the same: businesses, trade associations, unions, you, me. It's an endless source of material for cartoonists in general and editorial cartoonists in particular. But I only get to draw one cartoon a week, so I have to be judicious and callout the worst offender. And this week, after willfully (and sometimes gleefully) causing a partial shutdown of the federal government, the Republicans absolutely earned it.
The Michigan spin here refers back to end of last year when, in a lame duck session, the state GOP pushed through some controversial legislation (including a right-to-work law) with some dubious, though legal, actions. And they advised anybody who questioned their actions that they could do any number of the following: Stop whining, don't be a crybaby, grow a pair, put on a pair of big boy pants, don't like it? lump it, or simply shut up. An anxious nation now awaits as the House GOP searches for its big boy pants.