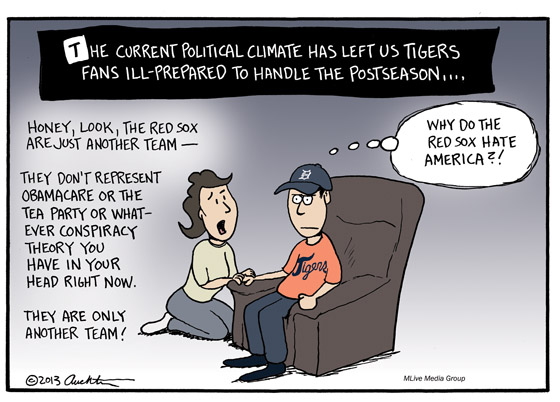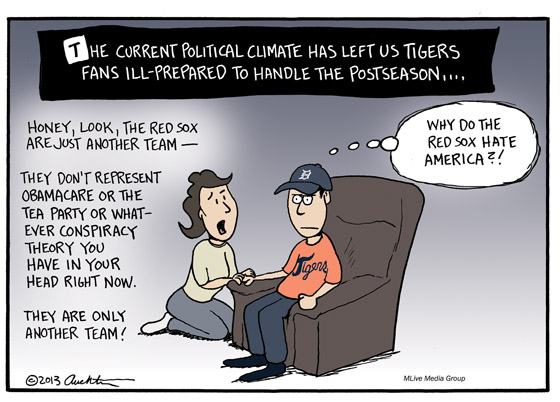 Originally published in the Ann Arbor News, Bay City Times, Flint Journal, Grand Rapids Press, Jackson Citizen Patriot, Kalamazoo Gazette, Muskegon Chronicle, Saginaw News
October 13, 2013
Since my deadline is Thursday and Game 5 of the ALDS was Thursday night, I actually drew two versions of this cartoon. One if the Tigers won (in which Boston hates America), one if the Tigers lost (in which Oakland hates America). It fit well with my general theme — in the current political climate, we tend to demonize anything not on our team. Actually, my first inclination was to equate the big bushy playoff beards of the A's and Red Sox players with the Taliban. Turns out, there's nothing funny down that road….
In any case, I was certainly happy the Tigers won. But then in Game 1 and most of Game 2 of the ALCS night, Detroit shut down Boston so thoroughly that I was concerned Tigers fans would not be generate the proper amount of animosity toward the Red Sox necessary for the cartoon to work. Oh, sure, there was the Sox constant bitching to the umps about strike calls. (Geez frickin louise, did they recently have a whiner-himer workshop with Phil Jackson? It's the playoffs, cupcake. You gotta swing at the close ones!) But with our bullpen collapse to give away Game 2, animosity is now on! So I'll likely be channeling my inner Ted Cruz to twist any perceived Boston misdeed — no matter how slight — to be a sign of the apocalypse. God have mercy on my soul….