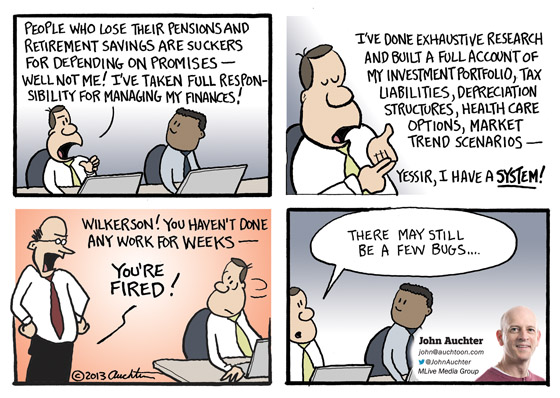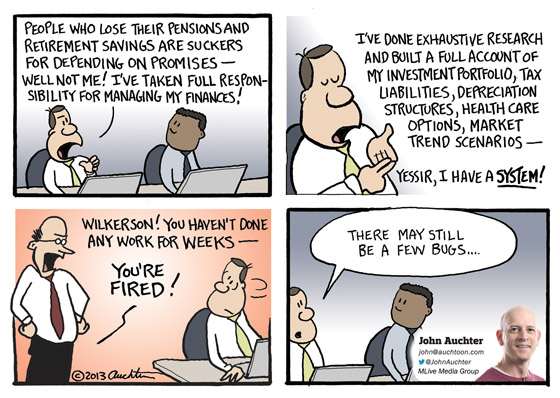 Originally published in the Ann Arbor News, Bay City Times, Flint Journal, Grand Rapids Press, Jackson Citizen Patriot, Kalamazoo Gazette, Muskegon Chronicle, Saginaw News
December 8, 2013
There's a lot involved with this taking personal responsibility for your finances stuff, and it sure ain't getting any easier. My brother and I were discussing this recently. Well, lamenting really. We're both reasonably capable adults, but we both feel absolutely overwhelmed with managing retirement plans. The choices, the options, the opportunities to screw up  — it's exhausting to even think about! But instead of drawing a cartoon about a whiner like me, I decided to make fun of those who are gung-ho in embracing this "personal responsibility" lifestyle, because at best it can make you the guy you don't want to get in a conversation with at a holiday party and at worst it can consume your whole life.
The local/Michigan angle to this (in case you were wondering) was the recent decision to move forward with the Detroit bankruptcy case. As a result, retirees from the City of Detroit can expect their pensions to be reduced in some way. It's easy  to think, "well I don't have a pension!" or "they should have been better prepared" or "I'm sure they are all thieves and welfare cheaters anyway" depending on how far down the I-Hate-Detroit road you want to go. But we would all do well to keep in mind that the same financial forces that have done away with pensions are the ones that will eventually end your employer-based health insurance. Yep, more choices to manage! Wheeee!