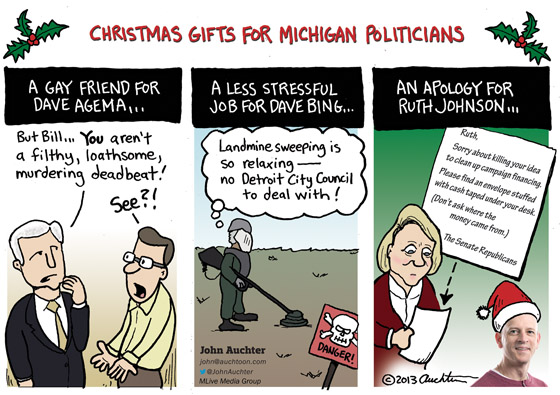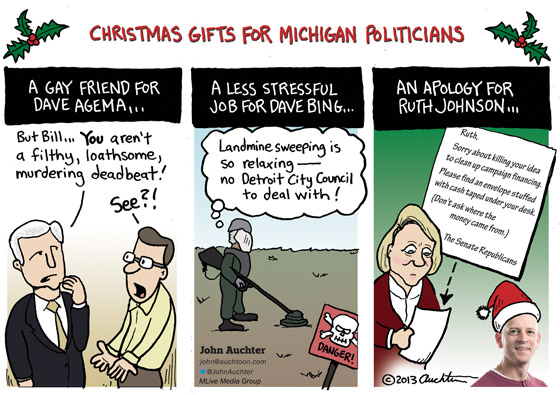 Originally published in the Ann Arbor News, Bay City Times, Flint Journal, Grand Rapids Press, Jackson Citizen Patriot, Kalamazoo Gazette, Muskegon Chronicle, Saginaw News
December 22, 2013
The backstories:
Panel 1: Dave Agema went off again sharing his uniquely twisted and mostly unsolicited views on homosexuality. This isn't the first time (and actually not even the last because he has since opined his support for the Duck Dynasty dude.) Nothing good can come from going down that road, Dave.
Panel 2: Dave Bing was a professional basketball star and successful entrepreneur, a generous and resourceful doer of good. He did not need to be mayor of Detroit. He did not need to be the one to follow the complete train-wreck that was Kwame Kitpatrick. He did not need to do battle with the delusional and dysfunctional city council. He deserves a hearty thank-you and somebody to let him know that it's okay for him to relax now.
Panel 3: This goes back to an earlier cartoon. Secretary of State Johnson (a Republican) proposed additional transparency to campaign financing; Republican Senators almost immediately proposed and passed legislation to do the opposite. I supposed the only decent thing for them to do was to include her in on some of the cash.
A very Merry Christmas to you all and a Happy New Year! (Warning: 2014 is an election year.)