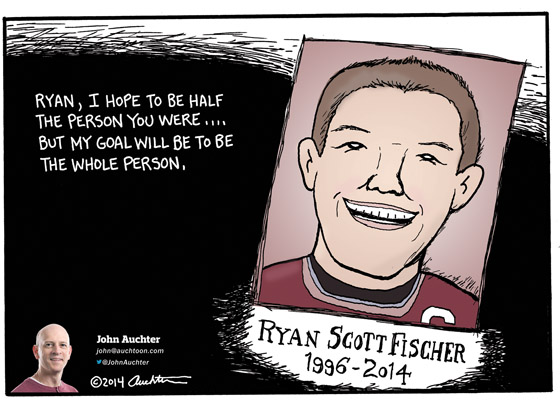 Originally published in the Ann Arbor News, Bay City Times, Flint Journal, Grand Rapids Press, Jackson Citizen Patriot, Kalamazoo Gazette, Muskegon Chronicle, Saginaw News
March 16, 2014
When somebody important dies, an editorial cartoonist is often expected to draw a "tribute" cartoon. A typical example would be that person arriving at the gates of heaven with St Peter behind an ornate podium and scribing in a huge ledger. Or a tear falling from the eye of a symbol (say, Uncle Sam) with labels and arrows to add the context. Or perhaps a somber silhouette of grieving figures, heads bowed, hands clasped. None felt right as a tribute to Ryan. While drawings like these can be comforting to readers, they would not have brought comfort to me. And they may work fine for famous strangers, but having known this important person, it needed to be actually, you know, personal.
So I tried to come up with something unique and witty. I sketched dozens of ideas. I tried to construct a whole story. With Ryan, there is so much to tell. And his peers, his classmates, teammates, youth group members. I wanted to include them because they were so much a part of that positive force that Ryan was and continues to be. I really wanted to make something grand.
In the end I deferred to lessons learned from three people. First was Father Chris Rouech, the priest who delivered the homily at Ryan's funeral. He was so very eloquent in expressing this simple truth: So many wonderful words and stories had been shared about Ryan that it was really overwhelming. Better to keep it simple, and allow Ryan's goodness to shine. Second, was my son Atticus. Drawing portraits is not my strong suit. I draw the way I draw — I'm really a one-trick pony. There was no way I was going to be able to capture Ryan's smile and that special glint in his eye. But over the past few days I had seen my son step up and out of his comfort zone time and again. If he could speak from the heart, then I could certainly try it, too.
Third was Scott Fischer, Ryan's father. At the funeral, after listening to three astonishingly beautiful eulogies, Scott stepped up before his son, his family, his church, and his community and filled our souls with love and comfort. Truly, it was like he was channeling the Holy Spirit, and that's what I believe because I'm not sure how he could have done it otherwise. But Scott also challenged us. He said we should honor Ryan by trying to be half the person Ryan was. And not stop there, but to strive to be the whole person. Breathtaking. …so I cribbed his notes. Yep, just out-and-out stole them. There was no way I could have come up with anything that was even within a voyage of it. What could I do? So, sorry Ryan. Not exactly a great start at achieving that higher standard — I'll do better.
I really loved that kid. He was kind and genuine, faithful and strong, loud and goofy. God bless you and keep you.
Here's an index of articles: http://topics.mlive.com/tag/ryan-fischer/posts.html