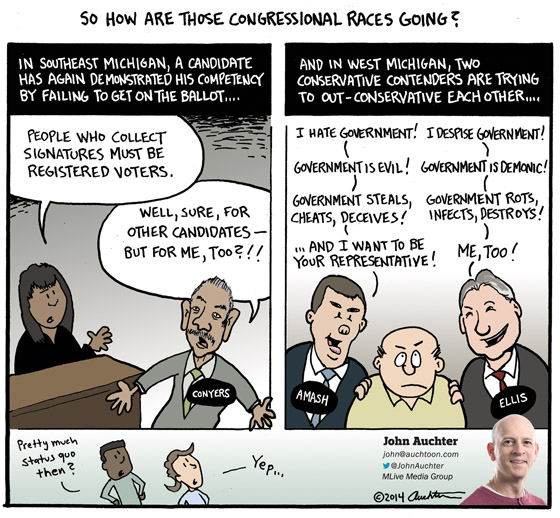 Originally published in the Ann Arbor News, Bay City Times, Flint Journal, Grand Rapids Press, Jackson Citizen Patriot, Kalamazoo Gazette, Muskegon Chronicle, Saginaw News
May 18, 2014
So after running for Congress 20+ times, apparently John Conyers is still not clear on the rules. But he shouldn't feel too bad. Four years ago congressman Thaddeus McCotter filed fraudulent signatures and failed to get on the ballot. Then last year current Detroit mayor Mike Duggan had to run as a write-in on the primary ballot because he missed a deadline. Doesn't exactly inspire confidence, does it?
Meanwhile, in the West Michigan, the congressional district that includes Grand Rapids has a battle for the Republican nomination — incumbent and tea-party favorite Justin Amash verses businessperson and traditional GOP backed Brain Ellis. This is actually a game that is playing out in several races across the country but is something of tradition here in West Michigan — who can appear more conservative. My original inspiration for this cartoon was to  have an increasingly ridiculous hypothetical argument between Amash and Ellis. For example:
Amash: "I'm so conservative, I would have a baby with Ayn Rand and name it "Ronald Reagan"! Even if it was a girl!"

Ellis: "I'm so conservative, I would shame Ayn Rand for having an illegitimate baby, and then I'd cut off healthcare funding so baby Ronald would get whooping cough!"
…and so on. For me and about a dozen other readers, it would have been worth reading all of the dialogue. So instead I went with the more straightforward irony of candidates who profess to hate government wanting to be in government. Funny, but not hilarious like a good Ayn Rand joke….