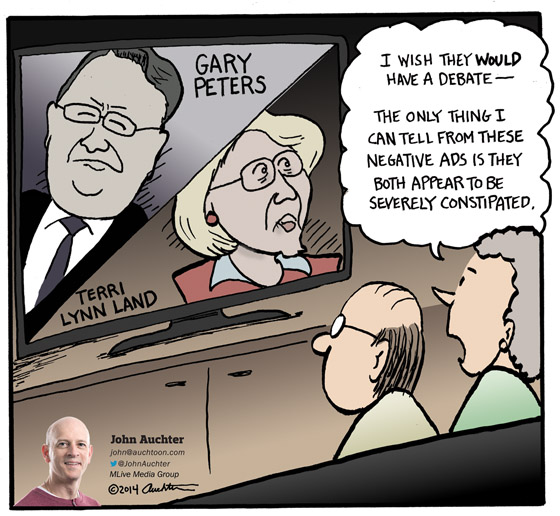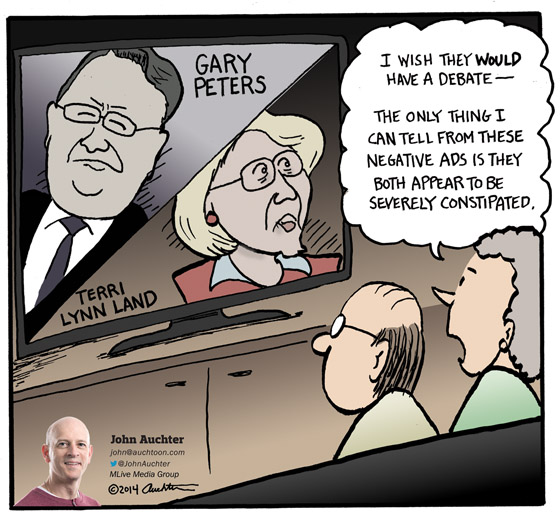 Originally published in the Ann Arbor News, Bay City Times, Flint Journal, Grand Rapids Press, Jackson Citizen Patriot, Kalamazoo Gazette, Muskegon Chronicle, Saginaw News
October 5, 2014
It's best not to watch campaign ads at all. But if you have to, the mute button helps. It helps to bring out the comedy, especially in the negative ads. I imagine a room full of political operatives pouring over thousands of sepia-toned, slightly out-of-focus, sour-faced pictures of their opponents trying to find the one with just the right amount of unappealing. Apparently they do a good job because that's the one they end up with.
In Michigan, Gary Peters is running against Terri Lynn Land for a US Senate seat that Carl Levin is retiring from. That makes it an "open" seat, and some significant money has been spent on both sides. Pretty typical stuff. The twist here is that Peters is polling ahead of Land, but it is Peters who has been begging for a formal debate. Typically the underdog wants the debate — nothing to lose. But in this case, Land has avoided it. She may change her mind at the last minute (again, nothing to lose). Or maybe she's still hoping to find that magical photo of Peters that makes him look like he pooped his pants. God help us if that actually works.