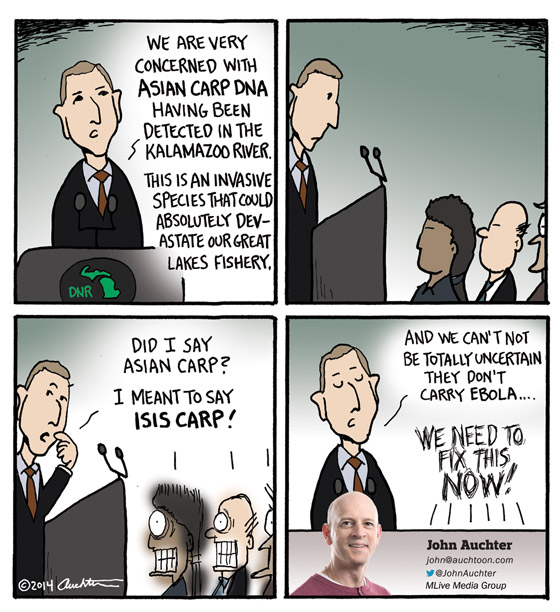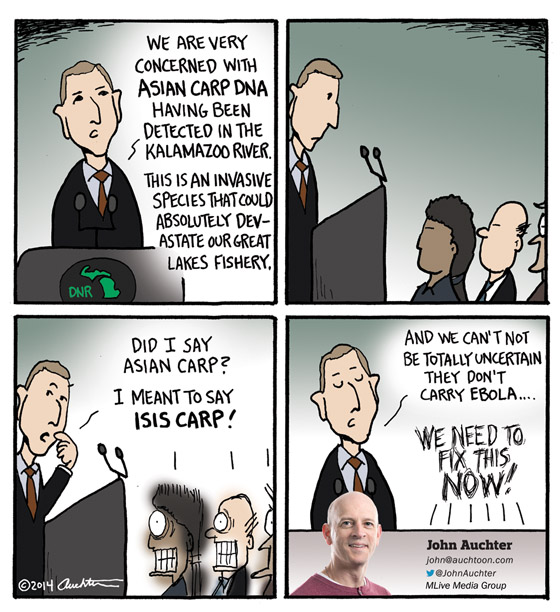 Originally published in the Ann Arbor News, Bay City Times, Flint Journal, Grand Rapids Press, Jackson Citizen Patriot, Kalamazoo Gazette, Muskegon Chronicle, Saginaw News
October 12, 2014
The merging of two stories here. First, the ongoing efforts from Michiganders, such as our state Department of Natural Resources, to sound the alarm about Asian carp. As the comic says, they are an invasive species that could massively alter the fisheries of the Great Lakes. For years now many in Michigan (and especially the Department of Natural Resources) has been sounding the alarm about the potentially devastating effects these fish could have on recreational and commercial fishing, not to mention the vast environmental impact. And it's a real threat because the Mississippi River system, which is linked to the Great Lakes via canals, has already been totally compromised. Despite this not much has been done.
The second is the hysterical cable news stories about ISIS and ebola and the willingness to devote massive amounts of money and attention to prevent these invasions. Of course these are real issues, but perspective… we seemed to have lost all perspective. The Daily Show actually did a pretty good send up of this that's worth a watch: A Million Ways to Die in the U.S.
By the way, that's Ed Golder behind the podium there. He was my editor at the Grand Rapids Press for many years, and he transitioned to PR Director at the DNR. He's a really good guy. He would never scare people to try to get them to do the right thing, so I am glad to do this for him.