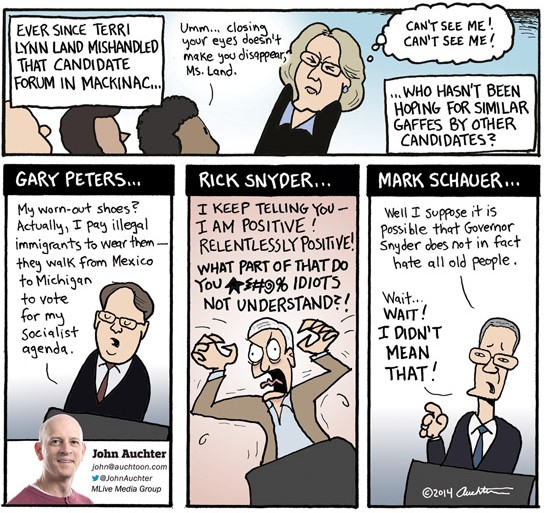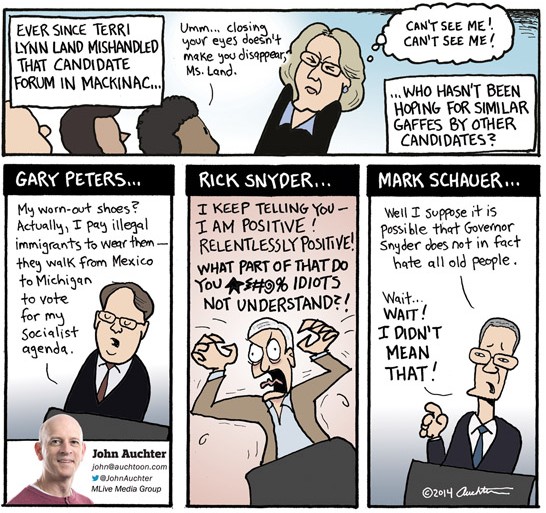 Originally published in the Ann Arbor News, Bay City Times, Flint Journal, Grand Rapids Press, Jackson Citizen Patriot, Kalamazoo Gazette, Muskegon Chronicle, Saginaw News
October 19, 2014
Back in May, Republican nominee Terri Lynn Land basically face-planted on the first hurdle of the Senate race. She has not gotten a whole lot better since then. It made me wonder what other face-plants might look like:
Gary Peters is the Democratic nominee for Senate. He has run a pretty smooth campaign, including a jovial spot where he cites a pair of his shoes with holes in the soles as an example of his fiscal frugalness. But what if he let slip a secret every tea-party conservative suspects to live in his coal-black heart?
Rick Snyder is the current governor and prides himself on relentless positivity. He has shown a few cracks of irritability here and there, but I'd like to know what a complete breakdown would look like.
Mark Schauer is the Democratic challenger for governor. As a challenger, his job is to spin the record of the current governor as negatively as possible. And he has, including equating a pension tax as evidence that Rick Snyder has it in for senior citizens. Schauer has been very consistent about that. But one goof up and people might stop believing.