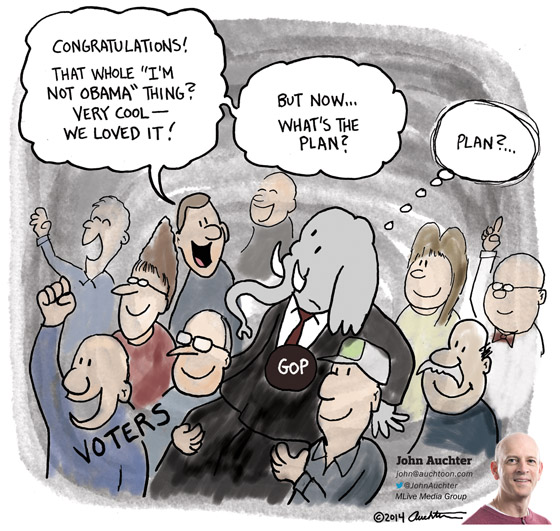 Originally published in the Ann Arbor News, Bay City Times, Flint Journal, Grand Rapids Press, Jackson Citizen Patriot, Kalamazoo Gazette, Muskegon Chronicle, Saginaw News
November 9, 2014
My daughter Ellie got me a humongous book of New Yorker cartoons a couple of weeks ago at a library book sale for $1. (So let's review that quickly: cartoons, book sale, library, one dollar — I am so pleased with the way that kid has turned out!) I have been reading the book and after I conjured up this week's cartoon, I realized its style was somewhat influenced from my reading. So when I got to the point of coloring it, I decided to try that watercolor wash that many (especially older) New Yorker cartoons have. I had bought some Photoshop watercolor brush plugins a year or two ago, and it always feels good to at least try to use the stuff you bought. And here it is. It's obvious to me that I don't know exactly what I'm doing, but I do like the effect.
As for the cartoon itself, yeah, it's not entirely fair. But as I think I mentioned before, editorial cartoons don't have to be fair. In fact, it's better if they aren't. My point: the GOP may have some actual arrows in their quiver, but as far as health care goes, myself and the rest of the voters are going to be very interested to see whether they have an actual plan. It does not bode well for them when Ted Cruz tells us that "net neutrality is Obamacare for the Internet." Ted, baby, your team won! You can't continue calling everything you don't like "Obamacare." So …what's the actual plan?