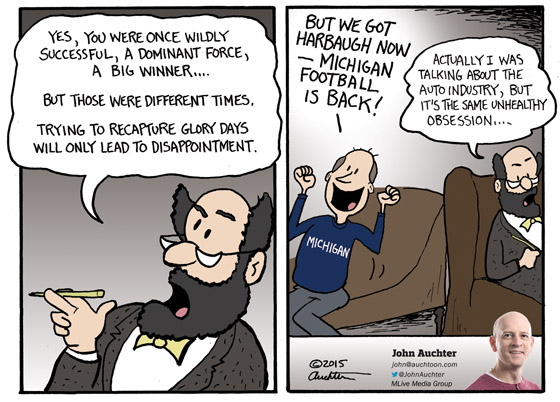 Originally published in the Ann Arbor News, Bay City Times, Flint Journal, Grand Rapids Press, Jackson Citizen Patriot, Kalamazoo Gazette, Muskegon Chronicle, Saginaw News
January 4, 2015
The Bruce Springsteen song "Glory Days" is a melancholy story about a group of people whose quality of life basically peeked in high school and has been sliding downward since. They all seem fully aware how pathetic it is to be so relentlessly nostalgic, but better that than face a joyless future. Of course it is a catchy, upbeat song so most listeners hear it as a celebration of glory days and sing along just like the sad people in the story. Maybe that's how Bruce intended it — his little joke.
And so University of Michigan football fans sing along with the hiring of new coach Jim Harbaugh. I wish them well. But I really, really hope the enthusiasm is more about building a new competitive and honorable program, and not about trying to recapture the Bo Schembechler glory days. Nothing more annoying than wistful U of M fans. Have you ever seen "The Big Chill"?