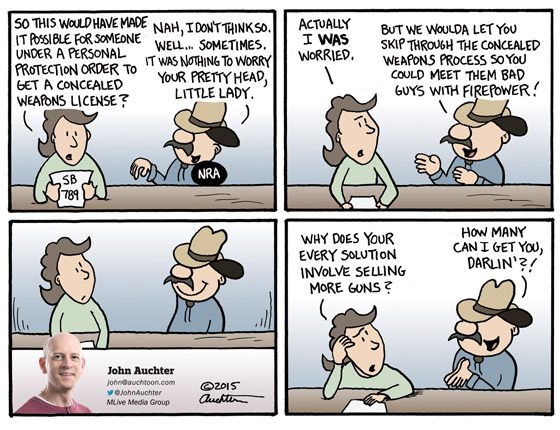 Originally published in the Ann Arbor News, Bay City Times, Flint Journal, Grand Rapids Press, Jackson Citizen Patriot, Kalamazoo Gazette, Muskegon Chronicle, Saginaw News
January 18, 2015
So here's the point: When I was growing up, I had many friends and neighbors who were members of the National Rifle Association (NRA). It was an organization focused on promoting safe gun use to hunters, collectors, and general enthusiasts. The NRA provided practical services to those with a genuine interest and use for their weapons.
Today, the NRA's primary focus has clearly morphed into promoting gun sales. Sure, there is still the stuff about gun safety, but its enormous power and influence, its lobbyists and lawyers did not come from gun safety. It has grown from pushing gun sales to new markets. As the number of hunters and outdoorsman has waned, sales have skyrocketed to urban and suburban dwellers, many of whom don't necessarily like or need guns but feel compelled (usually by fear) to buy them.
The NRA has been so successful that sometimes it gets blinded by its own ideology. Such is the case with a recent bill (SB 789) passed by the Michigan legislature during the lame duck session in December. The purpose of the bill is to reorganize how concealed weapon licenses are issued in Michigan counties. Mostly it is about changing the arbiter from a gun board to the state police. But slipped into the bill was an important change: Currently anybody that has a personal protection order (PPO) against them cannot be issued a concealed weapon license. The bill would have changed that and made it much more complicated. On Friday, Governor Snyder vetoed it citing the risk to domestic violence victims.
If it remains important to the NRA that a handful of people with questionable PPOs are allowed concealed weapons, then they can get a legislator to write a specific bill and try to pass it on its own merit. But I don't think it does, and that's why they tried to slip it into a bill that actually did have merit.
Just to be clear: My issue is not with the constitution and the 2nd amendment. My issue is not with gun ownership and our rights as Americans. My issue is not even with guns themselves. My issue, in this cartoon, is with what the NRA has become.