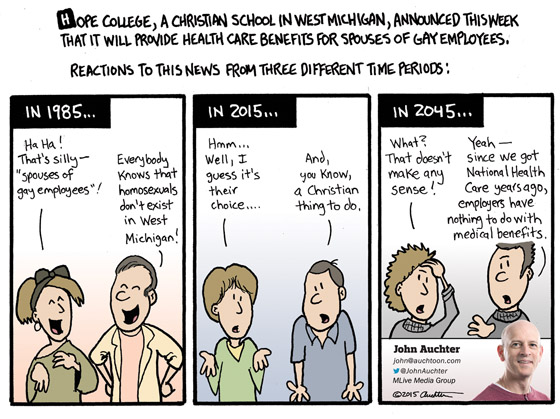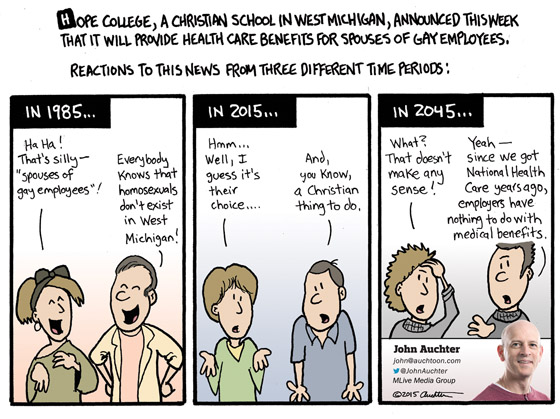 Originally published in the Ann Arbor News, Bay City Times, Flint Journal, Grand Rapids Press, Jackson Citizen Patriot, Kalamazoo Gazette, Muskegon Chronicle, Saginaw News
August 2, 2015
Also posted online at MLive.com, August 1, 2015
So that's my prediction: Within 30 years the United States will have a national health care system. Now you can debate how it will be paid for; you can debate what will be covered; you can even debate how the status of your citizenship will or will not qualify you. (Oh, and those debates will rage!) But there will be single, federal system.
It will not be like Great Britain's, because we won't tolerate waiting in line for ice cream, let alone important medical services. It won't be like Germany's, because as the ACA has demonstrated, we don't have the capacity to follow complicated rules. It won't be like Canada's, because everything would be fair and even, and we hate it when there is no clear winner. No, it will be something uniquely American. My guess is that it will be designed by Republicans — probably with vouchers, along the lines of what Paul Ryan has proposed for Medicare. But when a Democratic president implements it, the Republicans will call it socialism and undermine it by naming it "Chelsea-care."
The one thing I do know is that your employment situation will no longer have anything to do with your health insurance. Why? Our current system is a historical anomaly. After World War II, companies started granting medical insurance to employees to attract workers. It was more cost-effective than raising salaries, and soon the government began to grant tax breaks to support it. It snowballed, and after a generation or two, we came to expect it.
But it has turned out to be grossly inefficient, and nobody really likes it. Take the tax breaks away, and employers will gladly give up having to administer health coverage. Private employers will be especially glad not having to make moral decisions such as whether to provide benefits for gay spouses. We will look back and think, "Wow, that old system was really dumb; I'm so glad we came to our senses."
Of course if we go ahead and let Emperor Trump come to power, all bets are off.