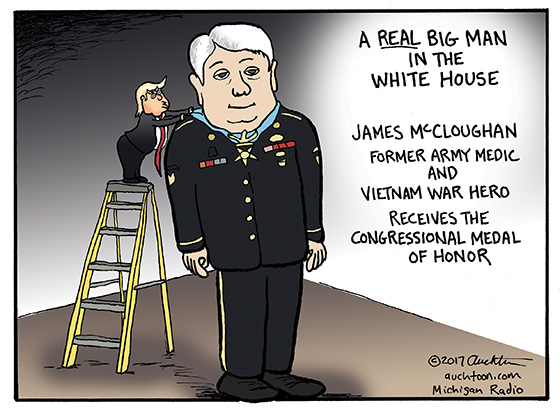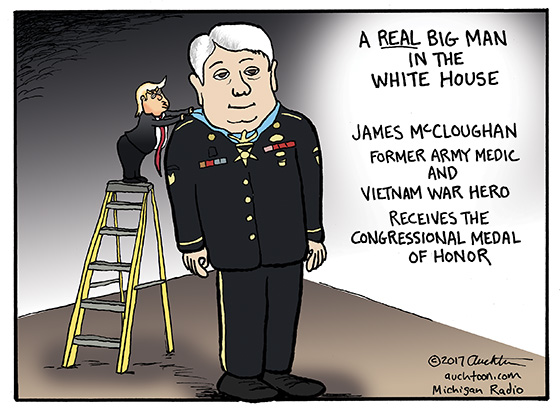 On Monday, July 31 former Army medic and Vietnam War vet, Jim McCloughan, was awarded the Congressional Medal of Honor by the President at a White House ceremony.
His story is breathtaking. In 1969 during the Battle of Nui Yon Hill, McCloughan's company came under heavy fire and was in full retreat. As his fellow soldiers ran for cover, McCloughan was consistently moving the opposite direction and into harm's way to collect the wounded and bring them to safety. Even when he himself was wounded, McCloughan refused to quit. In the end, he is credited with saving 10 soldiers over three days of fighting. Reflecting back on this, McCloughan said:
"I'd rather die on the battlefield than have heard later on that one of my men didn't make it because their medic was not there."
A more detailed (and better told) account of this can be found on NPR.org.
Editorial cartoonists often get accused of "politicizing" things that some people feel should not be politicized. I can see how some may feel this way about today's cartoon. But for me, it's not at all about politics; it's about character and the stark, stark difference between the two men at the ceremony.
Mr. McCloughan is the quintessential American hero. After Vietnam, Mr. McCloughan returned to Michigan and spent 40 years teaching geography, sociology, and psychology at South Haven High School. In addition, he coached football, wrestling, and baseball. Humble. Brave. Selfless. A thoroughly decent human being.
I'll leave it at that.