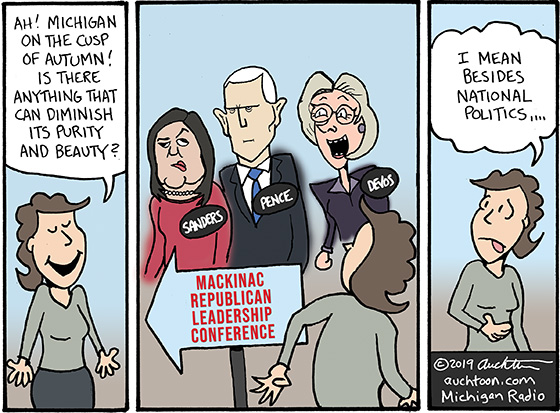 Oftentimes, yes, the cartoon idea that wins and gets drawn is the one that is the most fun to draw. And that partially explains why I decided on the Mackinac Republican Leadership Conference as a topic over a looming state government shutdown and the GM/UAW strike. (C'mon now. Sanders, Pence, DeVos. These are faces made for caricature!)
But the other part is why the mere sight of these three would ruin my perfect Michigan fall day. As Press Secretary, Sarah Sanders took the job from "White House messaging advocate" to "propaganda minister" by steadfastly standing behind demonstrable lies and attacking those who questioned them. As Vice President, Mike Pence continues to be the very definition of sycophant and a self-styled moral leader for a decidedly immoral administration. And Education Secretary Betsy DeVos is not only actively hostile toward public education, but seems incurious about her job and education as a whole.
That all said, I do think it's important to acknowledge that these three are certainly not the only disdainful people in politics, and maybe you're happy with them because they are getting you what you want. Still, make all the "what-about" comparisons and "the-end-justifies-the-means" arguments you want — what remains are three terrible public servants.