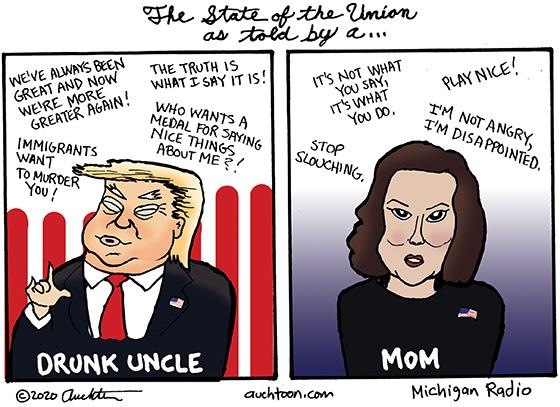 Can I be honest with you? I didn't actually watch much of the State of the Union speech. I opted for college basketball. But that turned out to be pretty painful, too, as both Michigan and Michigan State lost their games in the waning seconds. Punishment for not being a good citizen, I suppose.
What I did see of President Trump I watched through squinted eyes — I find it difficult look directly at him when he's doing his campaign-rally shtick, but especially in front of front of my full government and in my capital building. It struck me very much like a drunk uncle going off at a captive family gathering. Reading the transcript and fact checks the next day, I stand by that assessment.
Governor Whitmer's Democrat response was quite a contrast. Clear, personal, without much embellishment…and much shorter. It felt like the sort of good, practical instruction you'd expect from your mother. With a dash of passive-aggressiveness to hasten compliance. Also, like a mom-talk, it took me till the next days to realize there were some holes — like, aren't you the same governor who is currently trying to end-around the legislature for your roads package?
But that's only what I thought. Others may be entertained by the theatrics or put off by a lecture. (The President himself famously cannot stand to have experts tell him things he does not know. Who needs knowledge when you got ego?) Hopefully next year we will have a President I can watch so I don't jinx our basketball teams.