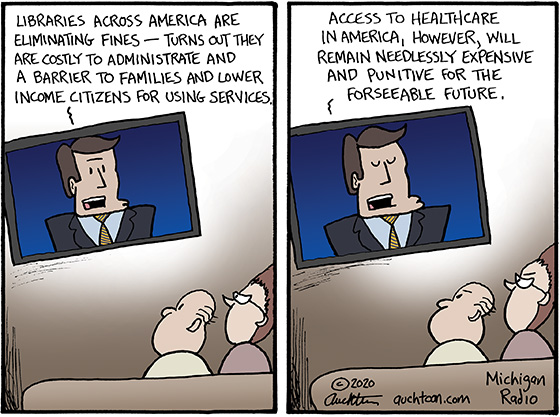 There was an article in the Detroit Free Press this week, "Some Michigan libraries join nationwide trend: Eliminating late fees on overdue books." Here's an excerpt:
Libraries in metro Detroit, Michigan and across the U.S. have, or are considering, joining the nationwide trend of eliminating fines for overdue materials.
Larger library systems, including the Detroit Public Library, Kent District Library, and Grand Rapids Public Library, and smaller ones, such as the Ferndale Area District Library, Grosse Pointe Public Library and Chesterfield Township Library, either have eliminated overdue fines for all patrons or have gotten rid of late fines for certain patrons, such as children and teens.
The main reasons for this trend are that (1) the threat of fines have proven to be largely ineffective, (2) the money collected from fines tends to be less than the money it takes to collect them, and (3) people who can't afford the fines often avoid checking out materials altogether.
So what I came away with is this bit of hopefulness: It is still possible in America to change a system to make it better. If data suggests an adjustment or elimination, we can go ahead and make that adjustment or elimination. If something is onerous, inefficient, and ineffective, suffering through it is not the only option.
Why does this not seem to apply to healthcare?