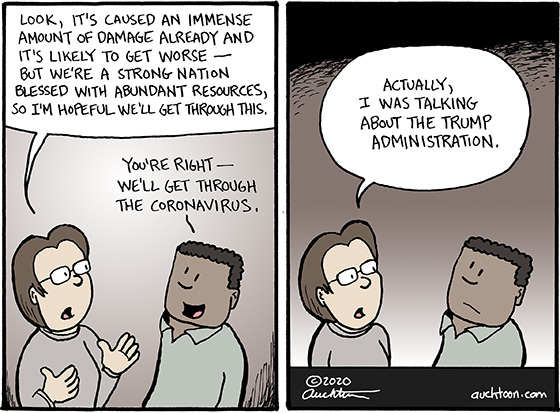 I was going to go on at some length, attempting to tie the cartoon together with the recent Michigan primary and the 2016 election and the importance of holding elected officials accountable. It was going to be a bit tortured, but in the end I thought I might be able to pull it off.
But given the current state of affairs, I couldn't imagine why I would want to read something like that.
Instead, I only really want to state that I do in fact believe that we live in a great nation blessed with abundant resources to manage this crisis. Please be kind, smart, and vigilant.
Postscript: Michigan Radio decided against running this cartoon. They were good with the cartoon itself when they got it Thursday, but unsure about how context around it might change by the time readers saw it over the next few days. Mostly, they did not want to cause unintentional hurt to readers dealing with medical emergencies. I understand their decision. I'm posting it here because I still think it's a good, thought-provoking editorial cartoon and almost every editorial cartoon I've ever drawn has had unintentional consequences.