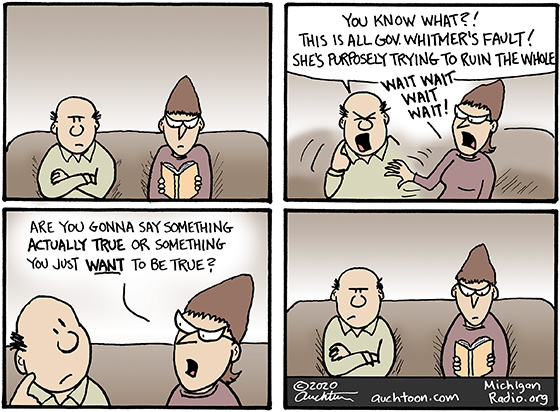 When our son was three years-old, and my wife or I needed to take him away from something he was enjoying (typically a computer game) and move him on to something else (typically anything but a computer game), he would get very frustrated with us and say, "No! I want to do what I want to do." And as we forged ahead, he would slow it down for us, "I want to do. What. I want. To do!" It was so sublimely simple — how could his stupid parents possibly not get it?! He would be totally exasperated with us.
Today, many Michiganders are exasperated. The quarantine necessitated by the coronavirus crisis has been difficult and there are legitimate reasons to be upset — not being able to go to work, home life turned upside down, economic insecurity. But there is also an awful lot of "I want to do what I want to do" going on. And this has led to some outlandish conspiracy theories and truly childish (and dangerous) behavior.
Look, I draw editorial cartoons, so I'm the last person to say that you shouldn't vent. We all need on occasion to let go and tell the world what we think is not fair and what we want fixed. But when you do that in the midst of a pandemic, it's critically important to differentiate between what you want to be true and what is actually true.
By the way, our son now works as a Certified Nursing Assistant at the Vet Home in Grand Rapids. He takes care of the basic needs of military veterans, elderly and not so elderly with compromised health conditions. They are among the most vulnerable to COVID-19. Our son has been vigilant in following the rules created by scientists and medical professionals to keep himself virus-free and is relying on the rest of us to do the same. Lives depend on it. If you need motivation, just think of him (the three year-old version or the current version, depending on what motivates you).