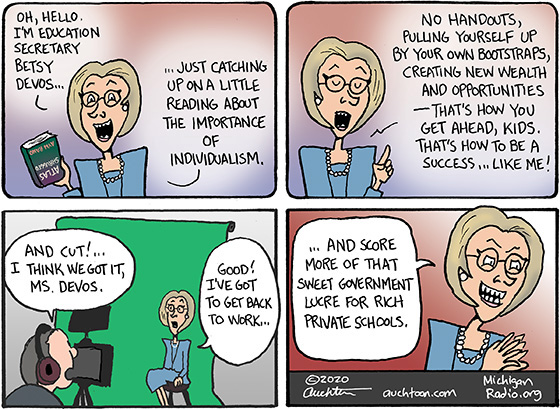 I feel the need to let you know — this cartoon was inspired by the first Betsy DeVos story this week:
Several Democratic-led states and the District of Columbia have joined in a lawsuit against Education Secretary Betsy DeVos, accusing the Trump administration of trying to unlawfully divert pandemic relief funds from public schools to private schools.

https://www.npr.org/sections/coronavirus-live-updates/2020/07/07/888793021/states-sue-education-department-over-allocation-of-pandemic-funds-to-schools
I completed it before I realized there was a second Betsy DeVos story:
Education Secretary Betsy DeVos on Tuesday assailed plans by some local districts to offer in-person instruction only a few days a week and said schools must be "fully operational" even amid the coronavirus pandemic.

https://www.freep.com/story/news/education/2020/07/07/betsy-devos-schools-full-time-coronavirus/5392310002/
Now as I write this, I see there is a third Betsy DeVos story:
"If schools aren't going to reopen, we're not suggesting pulling funding from education but instead allowing families … (to) take that money and figure out where their kids can get educated if their schools are going to refuse to open," Betsy DeVos told Fox News in an interview.

https://www.reuters.com/article/us-health-coronavirus-usa-education/us-families-could-use-federal-funds-elsewhere-if-pandemic-closes-schools-devos-says-idUSKBN24A25U
But probably the best Betsy DeVos story this week wasn't actually about her (but might as well have been):
The institute promoting the "laissez-faire capitalism" of writer Ayn Rand, who in the novels "Atlas Shrugged" and "The Fountainhead" introduced her philosophy of "objectivism" to millions of readers, was approved for a Paycheck Protection Program (PPP) loan of up to $1 million, according to data released Monday by the Trump administration.

https://www.reuters.com/article/us-health-coronavirus-ppp-ayn-rand/in-sign-of-the-times-ayn-rand-institute-approved-for-ppp-loan-idUSKBN248026
I apologize for not being able to keep up.